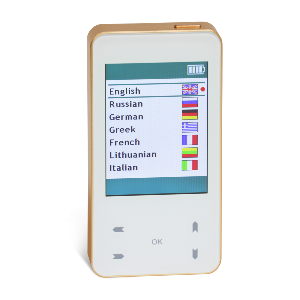 BIOMEDIS TRINITY multifrequency bio-resonance therapy device
Stylish, reliable, compact and lightweight, easy to be carried anywhere and helps you to be sure of your health condition.
* compact and convenient (48x92x14 mm/1.9x3.6x0.6 inch

)
* bright contrast screen with touch panel
* high-quality shockproof armored glass covert
* possibility of changing the remission intensity
* up to 18 hours of continuous operation without recharging
* 4 modes of bio-resonance therapy for exposure on the body at various levels
* multifrequency mode with the possibility of adjusting the exposure time of frequencies
* updatable software for PC and USB-programmer included
* unique health-improving complexes for every day
* support of anti-parasitic and therapeutic programs (frequencies of Voll, Schmidt, Rife)
* technology of scanning and detection of resonant absorption frequencies of the organism
* ability to run the device from any program
* limited 1 year guarantee
All devices are tested and have a warranty. You get the original products from Biomedis company warehouse. You get a free on-line consultation. Paid orders are delivered to anywhere in the world within 1-14 days.
Certificate

ICES

(Canada)
Certificate of conformity (EU)
Certificates EMC (Electromagnetic Safety Certificate)
BIOMEDIS TRINITY LAUNCHES NATURAL SELF-REGULATION MECHANISMS
Operation of Biomedis Trinity is natural and does not create anything unfamiliar or atypical for our body and mind. Only 100% secure and patented technology is used. The devices are authorized by the Ministry of Health of the Russian Federation and certified in Russia, Europe and the CIS.
Biomedis Trinity enhances the functions and systems of the body (nervous, circulatory, respiratory, digestive, reproductive, excretory, endocrine, musculoskeletal, lymphatic, and immune), improves organs efficiency, prevents early age-related changes, and maintains a natural balance. Due to its anti-parasitic and purifying functions it provides infectious safety and promotes the removal of waste and toxic substances.
Biomedis Trinity provides access to the reserve and hidden capabilities of the body. Working in the 4th mode, the device tunes your brain to what you want to do. Stay cheerful when you feel sleepy. Concentrate and tune in for studies and keep on working when you are under stress. Relax after a busy day. Choose the 4th mode work program that suits you best. Feel what your brain can do with the natural activation of its deep structures.
WARNING! Biomedis Trinity is contraindicated in the presence of an implantable pacemaker.